Cristiano Ronaldo won the men's award for the
fourth time in five years while Lieke Martens
was named best female player and Oliver
Giroud won best goal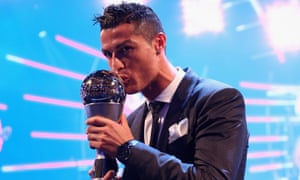 So Ronaldo wins the Fifa player of the year
award for the fourth time in five years.
That's five awards apiece for him and
Messi, the Argentinian's golden period
coming when he won four in a row
between 2009 and 2012. Next year will sure
be interesting. Will it? Only marginally.
Olivier Giroud will be pleased with his
night's work. Makes a change from sitting
on the bench in the Premier League at
least. And peace even broke out among the
women after the shortlist caused such
controversy. Martens is a worthy winner,
and Lloyd showed her enduring class …
Thanks for joining.
Ronaldo wins it. Well deserved. He had
another incredible year and to lead Real to
retaining the Champions League was some
feat. And what a complete player. And he
shares a smile with his son. Maybe he gets
a bad press. He thanks everyone he's ever
met, and gives a nod to Maradona. "I'm so
happy guys, thank you very much and good
night," he finishes.
And now Ronaldo steps up, not that one.
The old one. The goal machine who's now
rather rotund. With another tubby legend;
Maradona. They share a joke and we are
reminded of the genius of Ronaldo, Messi
and Neymar in a video montage. What a
performance that was from Neymar for
Barca against PSG. Will it be enough to
cause a shock. No way. Surely.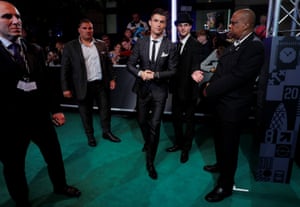 View all awards @
the great Eduwarp