[Download Music] Slyzay – Come Online (Prod. by Antras)
Mon Aug 20, 2018 11:51 am by emmy
Music Mp3 titled '' Come Online'' By Slyzay produced By Antras,  Click the below link to download Come Online By Slyzay. 
From the stables of Kimzy Nation/ Black Mind Media comes Slyzay real names Liadi Oluwanisola, born in Orile, Lagos state in his debut single.
He titles this new streets certified banger "Come Online", produced by …
[
Full reading
]
Comments: 0
[Download Music] Control Traffic By Barb West
Mon Aug 20, 2018 11:29 am by Emmi
Download Music titled ''Control Traffic'' By Barb West , Click the below link to download  and enjoy Control Traffic
. 
Fast rising Nigerian Afro hip hop and songwriter, Abioye Babatunde David aka Barb West drop a major single title 'Control Traffic' the Nigerian born musician & producer alerted his social media fans, when he will drop …
[
Full reading
]
Comments: 0
[Download Music] ABI By David Millz
Mon Aug 20, 2018 11:08 am by issac
Music Mp3 ''ABI By David Millz, Hit the download link below to enjoy ABI By David Millz. 
Nigerian rising star, David Mills born Longe Oluwafemi is here with new single titled "ABI", a song written by himself and produced by Dicey.
The Lagos based Afro Pop Musician is set for the last quarter of 2018 as he plans to release more …
[
Full reading
]
Comments: 0
[Download Music] AY Baddest Ft. Jamo Pyper – Aduke (Prod. by IFYSong)
Sun Aug 19, 2018 8:32 am by Emmi
Download Music Mp3 titled ''Aduke By AY Baddest featured Jamo Pyper'' Click the link below to download the hit song. 
Ayobamidele Oluwasegun Aka AY Baddest rise to the music scene has been astronomical, following the release of his first single "My Heart" which received various positive reviews
His fans and music lovers can't help …
[
Full reading
]
Comments: 0
[Download Music] Dr. Paul Ft. Prospa Ochimana – Yahweh (Remix)
Sun Aug 19, 2018 8:09 am by Emmi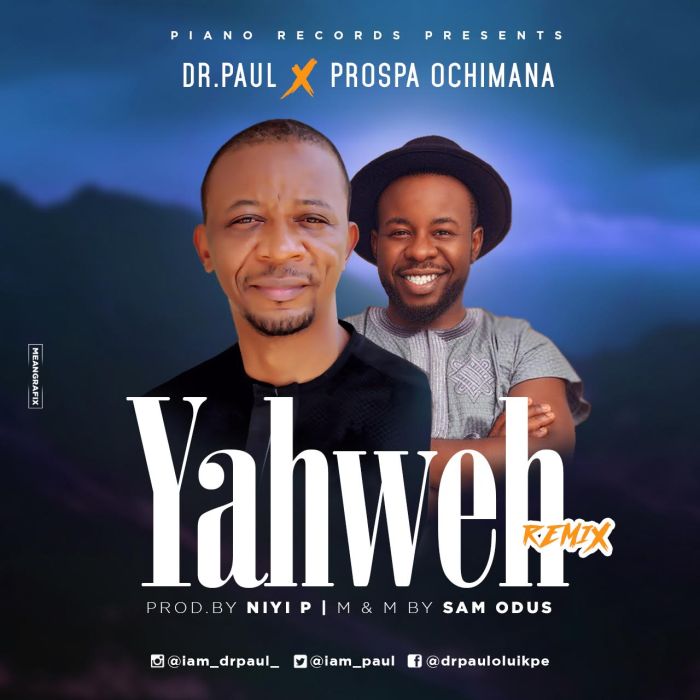 Dr. Paul has just dropped the much anticipated Yahweh (Remix) featuring Prospa Ochimana, the much beloved Ekwueme exponent.
Dr. Paul's original song Yahweh has trended far and wide across the world and blessed lives and nations, hence the desire to issue this remix so the world could experience another dimension of the song.
Produced by …
[
Full reading
]
Comments: 0
THE Indigenous People of Biafra (IPOB) has asked those clamouring for restructuring of Nigeria to read Section 9 of the 1999 constitution and find out that such venture is virtually impossible.
In a statement signed by Comrade Emma Powerful, Media and Publicity Secretary of IPOB, in response to the meeting of South Eastern leaders in Enugu, weekend, the group said Section 9 of the 1999 constitution midwifed by General Abdulsalami Abubakar was intended to make slaves of every part of Nigeria except the North.
Part of the statement reads, "Most surprising of all in the communiqué (issued by South Eastern leaders after their meeting) was their display of ignorance of the fact that their plea for restructuring is dead on arrival because of the stringent and pro-North conditions stipulated in Section 9 of the constitution upon which any successful restructuring must be anchored.
"We strongly advise those who are clamouring for restructuring to go and read Section 9 of the constitution and carry out simple computation of two-thirds of the number of state Houses of Assembly, members of Senate, and members of House of Representatives."
The group said it has resolved to approach the United Nations to mandate and supervise a referendum that would usher in the sovereign nation of Biafra and that it was convinced that "the restoration of the nation of Biafra is a divine project whose time has come and therefore, unstoppable, unquenchable, irreversible and irrevocable."
As for the position of Ohanaeze Ndigbo and South East governors, IPOB argued that that body could not represent Biafra because Biafra's geographical jurisdiction exceeded the territory under which both bodies held sway.
The IPOB said, "It is on record that Ohanaeze is purely an ethnic-based voluntary socio-cultural organisation restricted to only the Igbo-speaking people of the old Eastern region of Nigeria.
"Similarly, the lame duck governors of the unconstitutional South East oversee only some Igbo-speaking areas of the old Eastern region.
"On the contrary, the nation of Biafra covers 10 states that were carved out of the old Eastern and Midwestern regions with the addition of Biafra communities in Edo, Benue, and Kogi states."
For these reasons, IPOB urged Biafrans to ignore the communiqué issued by the leaders on the basis that they are not qualified to speak for Biafra, saying that at the end, it is the people that will decide what they want.
Still carpeting Ohanaeze and the governors of the South East states, IPOB said, "In the said communiqué, Ohanaeze and the lame duck governors affirmed their support for a united Nigeria, a British-created contraption.
"They craved for an egalitarian and a Utopian society within the context of social and ethno-religious equity in Nigeria but they forgot that Nigeria is a ranking member of the Organisation of Islamic Countries (OIC), which contradicts section 10 of the Abdulsalami Abubakar-written fraudulent constitution of Nigeria."
They described the communiqué issued at the end of the Ohanaeze meeting as "shameful, disgraceful and cowardly. "
Create an account or log in to leave a reply
You need to be a member in order to leave a reply.
Log in
Already have an account? No problem, log in here.
Log in
---
Permissions in this forum:
You
cannot
reply to topics in this forum