Several persons including a policeman were killed during a bank robbery at Igarra, headquarters of Akoko-Edo local government area of Edo State, on Wednesday.
Some suspected armed robbers have reportedly killed at least 10 persons in Igarra, in the Akoko-Edo Local Government Area of Edo State in an attack which occurred on Thursday evening.
According to a report by PUNCH Metro, the gunmen who on Thursday, invaded the town in an attempt to rob the Unity Bank and Keystone Bank branches in the area, had earlier stormed a police station close to the banks in a bid to demobilise the security operatives.
It was gathered that the policeman and two detainees were said to have been shot dead at the police station while three other persons outside the station were killed by the robbers, while the official vehicle of a newly posted area commander was set ablaze by the attackers.
It was learnt further that the gunmen later made their way to the commercial banks, where four other persons were killed.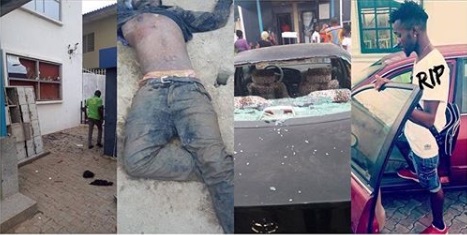 Although sources said that the robbers found it difficult to access the vaults of the banks, it was not clear if they succeeded in carting away cash.
One of the residents, Ofei Obende, said that the youths tried to resist the robbers but were overpowered by their superior firepower, adding that the daredevil robbers were later engaged in an exchange of gunfire by the police.
Meanwhile, the State's Police Commissioner said that three of the robbers were killed during the gun duel.
Kokumo said, "I am intercepting messages; give me few minutes so that I can brief you.
But the good news is we gunned three of the robbers down."
Secretary to the paramount ruler of the community, Otaru of Igarra, Elder Folorunsho Dania, also confirmed the incident saying: "This is a serious case, armed robbers have besieged Igarra.
So many lives killed, 10 dead persons have been counted.
"Close to the police station, three persons were killed and in the banks too, many persons were killed and the banks raided.
It is a calamity. They could not access the strongroom of the banks. The people that were killed in the bank were outside the bank premises."